Polly's Pies chief executive officer and a granddaughter of the founder share some of the secrets of making pies.
By FIELDING BUCK | fbuck@scng.com | The Press-Enterprise
July 28, 2023 at 10:30 a.m..
Fresh fruit pies are one of the short-lived joys of a long, hot summer.
Polly's Pies plans to begin selling fresh peach pies on Saturday, July 29, according to representatives. Triple Crown blackberry pie will follow a few days later. The Placentia-based restaurant chain expects to receive its first flats of the berries, which are said to be sweeter than other varieties, on Aug. 3. And fresh strawberry pie remains on the menu.
Being in the pie business isn't always easy as pie. Even though Polly's has suppliers that bring in produce from all over the world, it's still at the mercy of Mother Nature.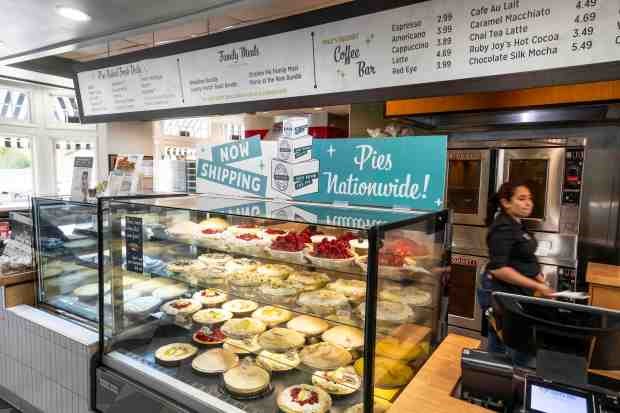 "We wait for a certain texture, and we wait for a certain sweetness," said Jacklyn Mitosinka, director of brand.
Polly's had been shooting for mid-July to begin serving fresh peach pie, but the crop was delayed by rain and cool weather, said president and chief executive officer Eric Stenta. Polly's uses tree-ripened freestone peaches.
"When you cut them in half, you can by hand-pluck the pits out. And then if you look at our pies, we have big wedges. We can make those beautiful cuts without squishing the fruit. Most of the pie companies that are serving pies early, they're getting cling peaches. They're a little bit more difficult to handle, and they're not as pretty inside the crust."
Selling out
Polly's double crust pies are made in a commissary but baked in individual restaurants, and its fresh fruit pies are filled onsite.
Once Polly's has the peaches, they require little preparation for fresh fruit pies, just a 20-second blanching to get the skins off before they are sliced, tossed in glaze and go into a pie shell, according to Stenta. Berries don't even require that step.
Polly's has a steady supply of strawberries so it can keep fresh strawberry pie on the menu from April through October, and Stenta said it can serve its signature Banberry Pie all year. It is topped with glazed strawberries but has a banana cream filling.
"There are certain stores that sell them like crazy. It's still our No. 1 pie year-round," said Mitosinka.
Other fresh berries have a much shorter run. Stenta and Mitosinka expect the Triple Crown pies to go fast. Olallieberry Pies were recently available but barely lasted three weeks.
"We would get fresh ones every Friday and sell out basically by Wednesday. Sometimes we'd sell out by Sunday," said Mitosinka.
Beyond pies
Mitosinka is the granddaughter of Eddie Sheldrake, a KFC franchisee who co-founded the Polly's Pies with his brother Don in 1968. Its website currently lists 13 locations in Orange, Los Angeles and Riverside counties.
Mitosinka is very familiar with the operation. She said some longtime staff members still know her as a little kid at company picnics.
Sheldrake is 97 and no longer active in the company, Mitosinka said, but a cousin, Mike Sheldrake, supplies the coffee beans for the chain's gourmet coffee program out of his Belmont Shore business, Sheldrake Coffee Roasting.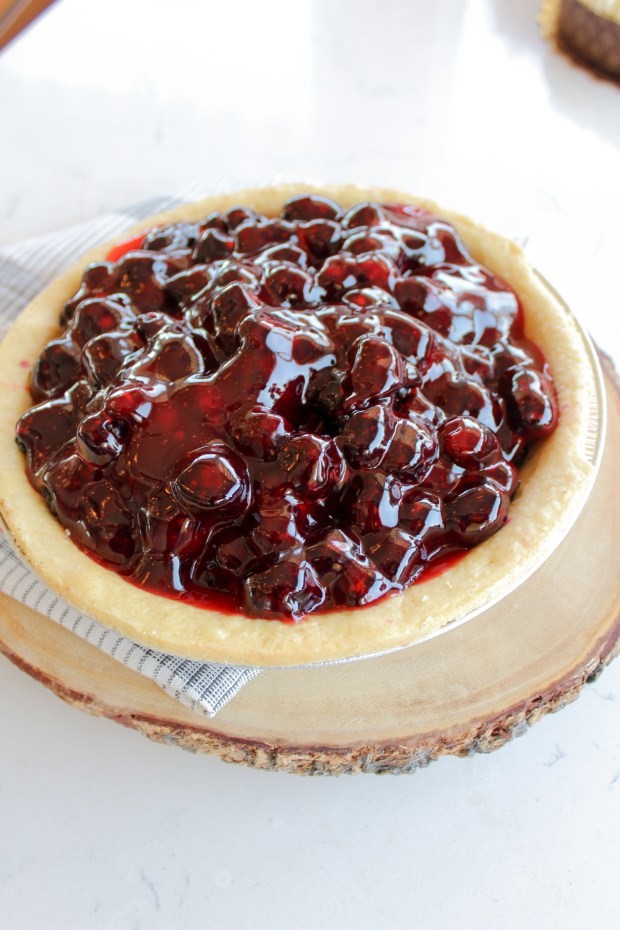 The restaurant's signature dishes include a chicken pie that is larger than an individual serving and meant to be sliced. Staff members use a special utensil to get it on plates.
Polly's menu has expanded from usual comfort foods. Its menu includes salmon, mimosas and Avissi Prosecco splits. Summer specials include St. Louis-style ribs and a double-breaded chicken sandwich.
A fall menu will debut in mid-September, Mitosinka said. She didn't reveal the contents, but said she is planning a kids meal promotion called the Back to School Brown Bag Club that will launch Aug. 22. Polly's will offer a free school lunch for every dine-in kid's meal purchase from Sunday to Thursday from 4 p.m. to close. She said its the kind of thing that would help her with her own two children.
"After sports, I want to be able to go eat dinner and not have to plan out their lunches for the next day."
In addition to fruit pies, Polly's offers a variety of pies to take home, including double crust pies, cream pies, custard and Key lime pie made with limes imported from Florida, according to Stenta.
Double crust pies include boysenberry, which owes its popularity to Knott's Berry Farm, a few miles away from Polly's headquarters. But Stenta said boysenberries are difficult to get and imported from different countries.
"The thought that goes into each pie and the recipes is pretty crazy."
Polly's Pies
Fresh strawberry pie: $6.49 a slice; $22.99 for a whole pie.
Fresh peach pie: $6.49 a slice; $22.99 for a whole pie.
Triple Crown blackberry: $6.99 a slice; $24.99 for a whole pie.