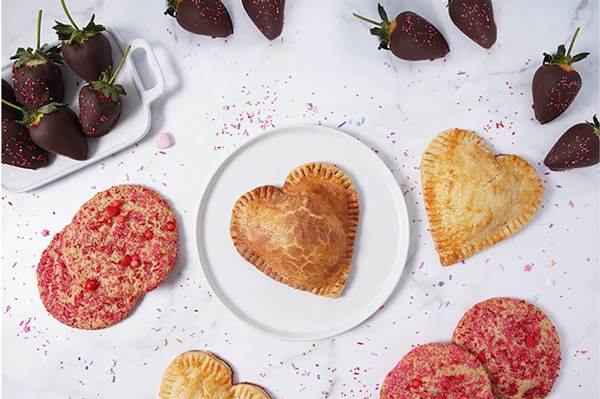 Hold Hands with a Heart-Shaped Hand-Held Pie this Valentine's Day
Orange County, Calif.—January 25, 2022— This Valentine's Day, eat your heart out with a heart-shaped, hand-held cherry or cinnamon apple pie from Polly's Pies. Polly's, with 13 locations throughout LA, Orange and Riverside Counties, is accepting orders through February 10 at all locations and available for pick up February 8 through 14. The hand-held pies are $7.99 each and locations will also carry a set amount for walk-in orders.
In addition to the heart-shaped pies, Polly's is also baking fresh Valentine sugar cookies and offering hand-dipped Guittard® chocolate-covered strawberries. Each makes a delicious gesture to show your appreciation towards a teacher, first responders, caregivers or to share with classmates.
"We've been baking pies for more than 50 years," said Jacklyn Mitosinka, director of brand for the family-owned restaurant group. "But we have never done a hand-held pie, which are more intimate than a traditional pie that serves 6 to 8 people. They're perfect for picnics, to enjoy with Champagne or to share with a friend on Galentine's Day."
Polly's is an ideal backdrop for a Valentine's Day breakfast, lunch or dinner. Unlike other restaurants, there are no reservations needed. Guests are seated on a first come, first-served basis with options for call ahead and take-out. The restaurant also offers a selection of wine and beer.
To pre-order your Valentine's Day heart-shaped, hand-held cherry or cinnamon apple pie, visit pollyspies.com. Pre-orders will be accepted through February 8 and restaurants will have a limited number of hand-held pies for walk-in orders. Polly's is open daily for breakfast, lunch and dinner.