Polly Palmer
A new take on the classic with a blend of Fresh Fruit Strawberry Lemonade and Freshly Brewed Iced Tea.

Strawberry Lemonade
Freshly Brewed Iced Tea
Freshly Brewed Mango Iced Tea
The Republic of Tea® Specialty Hot Teas
Hot Chocolate
Low-Fat or Chocolate Milk
Martinelli® Apple Juice
Orange Juice

Arnold Palmer
Freshly Brewed Iced Tea and lemonade stirred together and served over ice.
Beer & Wine
Bud Light
Budweiser
Michelob Amber Boch
Michelob Ultra
Widmer Hefeweizen
Chardonnay
Merlot
White Zinfandel

POLLY'S GOURMET COFFEE The Difference is in the Roasting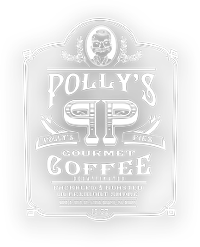 We purchase only the finest, top grade arabica coffee beans from around the world, but the real difference is in the roasting. Did you know that coffee loses 25% of its flavor within the first two weeks of roasting? That is why, since 1976 we roast our own coffee beans. We roast in small batches because we want our coffee to be the freshest, most exciting coffee you've ever tasted! Now offering French Vanilla and Hazlenut International Delight Creamers.
Pie Shakes
Upgrade your slice of pie to a Pie Shake for 1.99 plus cost of pie!
Ms. Polly's Favorites
Banberry, Pumpkin, Boysenberry